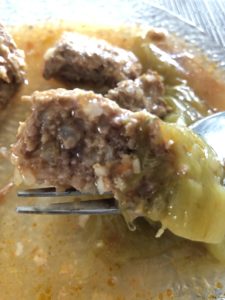 Anyone else feel like more grounding food now that we are close to Labor Day? No this is not paleo or keto because of the white rice. But it is gluten-free. And it's still low carb seeing as there is only 1/3 cup of white rice in 3 lbs of ground meat. That's likely about 15-20 grams of carbs in the entire thing so I'm going with low carb. 
_________________________________
Ingredients 
2 lbs grass fed ground beef
1 lb pasture or organic ground pork
1/3 cup white rice
Ground paprika
1 finely chopped onion
4 medium cloves finely chopped garlic
1 tbsp avocado oil
2 pasture eggs
3 green peppers – tops removed and seeded
Approx 4 tbsp of plain strained tomato/passata sauce
2 tbsp arrowroot starch
1/2 cup water
Salt and pepper to taste
Loosely mix with your hands the ground beef and ground pork together in a large bowl.
Meanwhile in your instant pot, add approx 6 cups of filtered water. Add in approx 4 tbsp of any plain strained tomato sauce. Set on "Sauté" mode to heat it up and get it to a gentle boil.
In a small saucepan heat oil to medium heat and fry onion until translucent. Add a significant amount of ground paprika to the onion mix (approx 1 tbsp) and mix quickly and thoroughly to ensure it doesn't burn and remove from heat. Let cool off for a couple of minutes then add it to the ground meat mixture.

Whisk the eggs and add to the ground meat mixture. Add uncooked rice. Add salt and pepper. You will have to guess on this – best guess is 1 tsp for the salt. Remember you can always add but can't take away!
Stuff your peppers and make meatballs with the rest. Add to the boiling tomato sauce/water.
Set instant pot on manual cook high pressure for 45 mins.
Once done, add 2 tbsp arrowroot starch to approx 1/4 cup of water and whisk so there are no lumps. Add to the cooked stuffed peppers sauce to slightly thicken it. #lowcarb #homecooking#oldschoolrecipe #croatiangirl #cleaneating#organic #grassfedbeef #holistichealth#holisticnutrition #holisticnutritionist