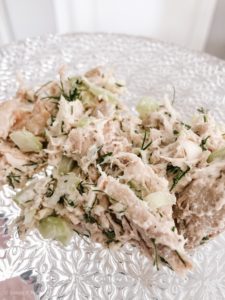 Busy week? How about some Easy Chicken Salad!
I usually do this once every 2 weeks or so (so we don't get sick of it) where I buy a whole clean rotisserie chicken (no, Costco chickens are not clean) and completely debone it for this purpose only. Literally try to get every piece of meat and all skin into it for the total nutritious benefit and no waste. Heck if you really wanted no waste you can make a simple soup out of the leftover carcass. Now that's what we call eating snout to tail in nutrition (kind of). And think about it. A whole chicken at Whole Foods will run you $14 Cdn. Not bad to feed yourself for 3 days! Or you and the hubs for 2 meals!
I also look for a plain rotisserie chicken. It's not always easy to find, but Whole Foods has it with absolutely nothing on it. This way you can be sure no added oils that aren't good quality oils are added or how about that sugar that seems to be in everything these days. ☠️ This is a great idea for those busy weeks when you want some homemade nutrition but have very little time. Stores great in the fridge for 3 days. You can eat it low carb or as a sandwich with some nutritious bread if you eat bread! I had it as is with a bowl of my homemade bone broth.
Ingredients:
1 whole organic or antibiotic/hormone free chicken completely deboned
2-3 tbsp of organic fresh dill
1 rib celery finely chopped
5 spring/green onions finely chopped
3-4 tbsp of @chosenfoods avocado oil mayonnaise
2 tsp of organic Dijon mustard
1 tsp of paprika
Salt and pepper to taste.
Mix all ingredients well and chill. #easychickensalad #organic #cleaneating #holistichealth #holistichealing #holisticnutrition #holisticnutritionist #lowcarb #paleo #realfood #grainfreeliving #glutenfreerecipes #sandyknutrition