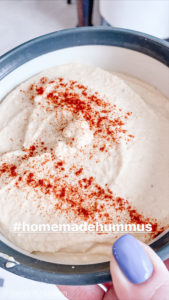 No matter what brand, clean, all organic, packaged hummus I buy, it's never like mine. The ingredients might even be almost the same as mine and super clean but still, it doesn't taste like mine.
____________________________________
What I like about making hummus is it's not an exact science. I add a little of this, add a little of that, to come up with the flavour I'm looking for. And I can tweak it any way I want.
_____________________________________
The other thing I like is that hummus is a complete protein. A complete protein means it provides you with all 9 ESSENTIAL amino acids. These are the building blocks for everything and the body cannot make these so you need to eat them!
______________________________________
My husband recently had dental surgery, and was able to get this in him with some soft pita, plus a whole lot of healing bone broth of course!
______________________________________
Folks – this is NOT low carb. If you're looking for a low carb dip, perhaps look elsewhere. It's all about balance and eating a variety of food remember; so if you eat low carb, choose this on a carb-up day.
______________________________________
Ingredients:
1 can of chickpeas
Approx 1/4 cup tahini (sesame seed paste)
Approx 4 tbsp olive oil
1/2 tsp cumin
1 clove of minced garlic
Juice from half a lemon
Salt to taste
Filtered water added as you process until you get a creamy consistency.
Use a good food processor and add all ingredients except the water at first. Process until everything is blended and scrape down sides as needed. Add water gradually until smooth and creamy.