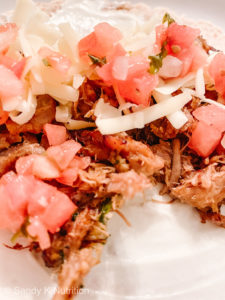 So I'm not going to pretend that there aren't a lot of steps in this because there kinda are. Don't let that dissuade you from making it, because, not to brag but, my carnitas recipe is beyond incredible. Seriously folks your house will smell ah-mazing. 🤩
Carnitas are typically cooked all day long and will only take a fraction of that time with the instant pot.
This is something you can make for guests for a casual dinner and I can tell you it's impressive – that is, if your guests appreciate Mexican cuisine. You can double this recipe and make a larger amount to serve a crowd of people. This amount serves approx 6 people.
Prep this in advance:
Set aside the juice from one large navel orange and 2 limes.
1 cup of bone broth (chicken is what I used). Mix your dry ingredients and set aside:
1/2 tsp smoked paprika
1/2 tsp chili powder
1 tsp onion powder
1 tsp oregano
1 tsp sea salt
1 tsp cumin
Freshly ground black pepper
You will also need:
Approx 3-4 lb pork shoulder/butt roast
6-8 cloves of minced garlic
1 medium onion chopped
1 cup of freshly chopped cilantro
1 chopped jalapeño (optional if you want it spicy)
2 tbsp avocado oil
Method:
Salt and pepper entire roast.
On sauté feature, add avocado oil and sear the pork roast on all sides. Remove and set aside. Cut off the strings after searing if the roast is tied.
Add chopped onions into the instant pot and sauté until translucent (approx 5 mins). Deglaze with citrus juices and the bone broth. Add in minced garlic and all seasonings. Mix well. Add the roast back into the mixture and set at high pressure for 30 minutes.
Quick release and remove the roast and cut up into smaller chunks. Put back into the juices in the instant pot and turn back on high pressure for 10 minutes. Quick release when done.
On sauté feature, shred pork with two forks as it cooks further on sauté and until all liquid goes into the meat and evaporates (approx 20-30 mins). Add in chopped cilantro.
Remove carnitas and place on a tray lined with parchment paper. Place in oven on broil for 5 mins or so to crisp up the carnitas – watch carefully that it doesn't burn!