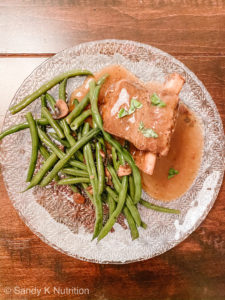 I love short ribs. It is a very decadent meal with a lot of saturated fat, so I don't make it often. I'm not a hater of sat fats because for some, it's super nourishing. For me, it's not ideal because of my genetics. This is why I always say your diet should be all about balance. ⚖️ PS – feel free to message me if you want more info on genetics as it relates to food or nutrigenomics. I love that stuff. ??‍? Ingredients:
✅2 tbsp avocado oil
✅1 small can organic diced tomatoes
✅5 cloves of garlic
✅1 medium onion
✅6 short ribs English cut
✅1/2 cup of bone broth
✅1/4 cup of red wine
✅Salt and pepper to taste
✅Arrowroot flour blended in small amount cold water to thicken your jus.
I highly highly recommend investing in a fat separator to always be able to make a good clean jus or gravy.
Method:
Salt and pepper short ribs all around. On sauté feature, warm avocado oil and sear short ribs on all sides. Remove. Add in onion and sauté until translucent. Deglaze bottom of the sauté pan with the red wine. ?
Add in tomatoes and garlic and bone broth and put the short ribs back in. Cook at high pressure for 35 mins. While they're cooking, in a cup make a mixture one part filtered water one part arrowroot flour. I usually do one or two tbsp of each. Whisk to ensure no lumps. Set aside.
Quick release the pressure. Remove the short ribs and set aside on a plate. Pour the jus into a fat separator with a strainer on top. Keep the onions, tomatoes and garlic! A fat separator will ensure you're jus stays on the bottom, and all the pure fat will sit on top. Pour all the good stuff back into the sauté instant pot insert, and throw away the fat or it'll make your jus too fatty. Put the reserved onion garlic and tomatoes back into the jus. Use an immersion blender to ensure all onions garlic and tomatoes are blended in smooth. Add in your arrowroot/water mixture slowly to achieve your desired jus thickness. Put your ribs back in and on sauté feature, warm up for only a minute or so.
Serve with green beans and with garlic mashed for a complete meal. It will feel like you slaved all day for this decadent meal! #glutenfree #grainfree#cleanbeef