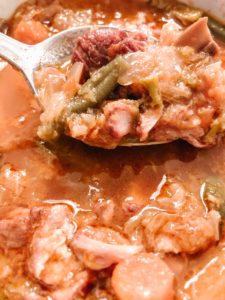 Layered Croatian Stew
This is an age-old Croatian recipe where you take all the vegetables you have in your fridge and lots of cabbage, and cook everything slow and low for a very long time over a 3 hour period. This stew is mostly about the veg, and really there is not a lot of meat as compared to the vegetables. You'll definitely be able to eat this hearty stew for a few days as it makes a generous amount.
Ingredients:
✅1 rack organic naturally raised pork back ribs.
✅1 medium onion chopped
✅1 rib celery chopped
✅6 cloves garlic finely minced
✅1/2 cup chopped carrots
✅1 cup of chopped green beans
✅1 bunch of chopped asparagus
✅1 small head cauliflower florets sliced
✅8-10 large cremini mushrooms thinly sliced
✅1/2 large head of cabbage chopped
✅1 head of Napa or Savoy cabbage chopped
✅3 large Yukon gold potatoes sliced
✅1/2 cup any tomato sauce of your choice (I use passata)
✅Approx 2 cups of bone broth
✅Salt & pepper
✅2 tbsp Avocado oil
✅Freshly chopped parsley
Method for Instant Pot:
Cut ribs into individual ribs. Salt and pepper both sides and sear all sides on sauté feature in Instant Pot. Remove and set aside on a plate.
Sauté the chopped onion. Add in garlic and ensure doesn't burn. Add in the tomato sauce. Add in 1 cup of the bone broth. Add in the seasoned & seared ribs along the bottom of Instant Pot. Now layer all the rest of the veggies on top. Pour remaining bone broth in and add sliced potatoes along on the top. Salt and pepper the top.
Cook on high pressure for 35 minutes. Or you can cook stovetop at a slow boil for 3 hours. Enjoy. This is a hearty one.#stewfordays #heartystew #healthystew #organic #pasturedpork #tonsofveggies #bonebroth #bonebrothrecipes #sandyknutrition #healingfoods #holistichealth #holisticnutrition #holisticnutritionist #foodthatheals #glutenfree #grainfree #paleo #paleorecipes #lowcarb #balancedliving #balancedeating #balancedmeals #eatwithapurpose #nourishyourself