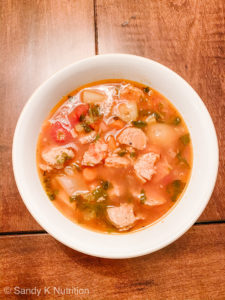 There are just those days when you feel like a hearty vegetable soup, and today was that day. Some in my family enjoyed with a slice of high fibre bread – I personally found this enough – but I must admit I went back for a 2nd bowl!? This kind of reminds me of Italian wedding soup because of the sausage and the greens, but definitely a different take. I love Italian wedding soup!
If you love veggies you will love this. If you want a meat-free night, substitute with lentils or beans. But make sure you add protein!! We need protein in every meal!
Ingredients:
2 tbsp avocado oil
1 small can of organic diced tomatoes
5 cloves of minced garlic
1 medium diced onion
1 celery stalk diced
1 cup of diced carrots
2 cups of chopped baby kale
4 pasture raised sausage
4 1/2 cups of bone broth
2 tbsp fresh chopped sage
2 tbsp fresh chopped basil
Salt & pepper to taste
Cubed baby potatoes (optional – omit if low carb)
Method:
Roast the sausage on a baking sheet with parchment paper at 350-375 degrees for 1 hour, turning over halfway through. You can do this in advance or the night before. Once cooled, cut sausage lengthwise first, then in thin slices. Set aside.
In a large dutch oven on medium heat, saute onion, celery, carrot, garlic and sage until onion is translucent (approx 5 min). Add in cooked sausage and saute another 5 mins to get all the flavours to mix. Add in canned tomatoes. Mix well. Add in the baby kale. Then add in the broth, potatoes and the chopped basil. Add in salt & pepper to taste. Cook for 20 minutes at medium heat. Enjoy as is or have a side of high fiber or sour dough or gluten free bread with some grass fed butter. ?. #glutenfree #grainfree#meatfreeoption #organic#pastureraised #cleaneating#lotsofveggies #heartysoup#holistichealth #holistichealing#lowcarb #holisticnutritionist#holisticnutrition #sandyknutrition#soupheaven #eatyourgreens#proteinateverymeal