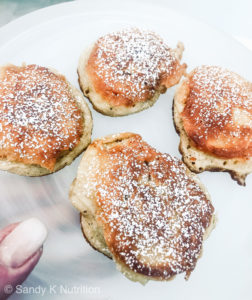 A word of warning about this recipe. It is going to make you drool if you love apples + dough like I do. It is NOT super sweet, so if that's what you're looking for, this may not be for you. It is such a comfort food for me, and takes me back to my childhood.
This is one of those recipes dear to my heart with methods my mom, my aunt and my grandmother used, like whiskey to ensure your fritter isn't greasy. The alcohol keeps the fritter from absorbing the oil so when you bite it, you don't feel like you have a mouth full of oil.
This is NOT gluten-free or grain-free. Maybe someday I'll try to adapt, but sometimes I feel classic recipes should be left untouched for those special moments you want to make them.
The reason I love cooking and baking so much is because of my mom. My mom brought so many age-old recipes and methods to Canada from my grandmother and my aunt.
My parents grew up on small farms in small villages in Croatia, and they did things the simple way. I crave that lifestyle often, and recipes like this take me back.
Cooking is an art. And so many people cook and may get all the methods right, but without love, there will always be something missing. You can feel the love in the simplicity of this recipe, and I can picture my grandmother making this special treat in her tiny kitchen on the farm for my mom and my aunt. This post is dedicated to my mom. A beautiful woman who puts love into everything. Enjoy.
Mom's Apple Fritters (makes approx a dozen)
1/2 cup cold milk
1 egg
6 tsp of whiskey
1/4 tsp of salt
1 cup of flour
1 tsp of baking powder
2 apples sliced 1/4" thick (use McIntosh for a softer, sweeter apple that "melts")
Cinnamon
Icing sugar
Avocado oil to cover bottom of a small frying pan to cover approx 1/4" high in pan.
Method:
Heat up frying pan with oil to medium heat.
First whisk milk with egg. Whisk in the whiskey. Add in the flour and baking powder and salt.
Sprinkle cinnamon on both sliced sides of the apples. Dip into the batter to cover and drop into the heated oil with a large spoon. Fry until light golden brown. Sift icing sugar on top and bottom.
Approx 12 grams of carbs per fritter.